About Kay Daly

December of 1999 is when I decided maybe I should turn my hobby into a business. After all I was starting to help many people around town fix their computers. So, Kay's Computing became my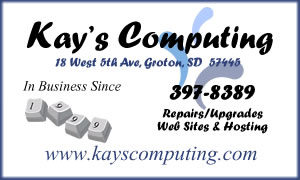 second job. Of course, years later that switched and now Kay's Computing keeps me very busy and it is what I do full time. I enjoy making computers run well and watching people have fun on them. My business is located in my house which makes it convenient for people to catch me at all hours on any given day.
Besides computers, my other hobby is sewing. I have three machines (regular, serger, and embroidery) to keep me busy if and when I have some spare time. I also enjoy cooking which you can tell by my online cookbook. These hobbies are beneficial in spoiling my three grandchildren whom I enjoy very much. And my husband, Doug, keeps me going with his Harley in the summer and an occasional outing on the snowmobiles in the winter. Teaching Bible Study every week is fun and enjoyable and I learn many life lessons from this wonderful group.
Caring for Computers Since...